Modified on: June 2023
3 Steps to Financial Success (Part 2 – Disaster Insurance)
Disaster Insurance is part 2 of a 3 part series on how to achieve financial success (part one focused on budgeting).
For many, finances can be complicated. But they don't need to be.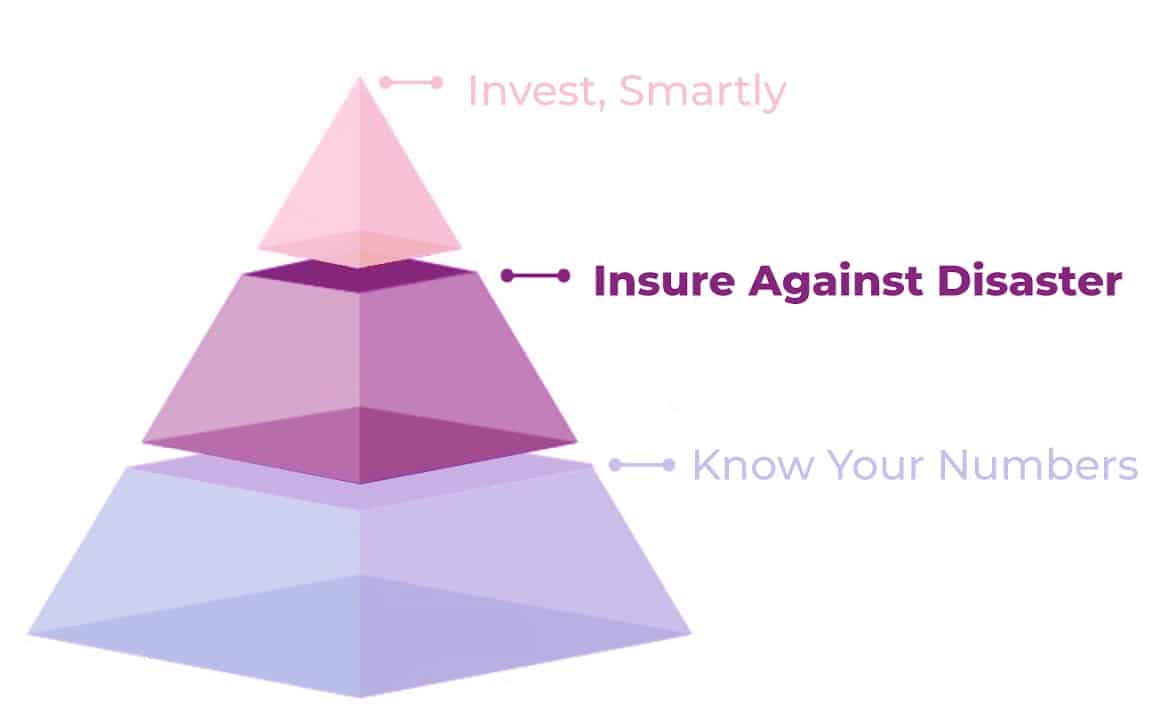 When we really break it down, financial success requires just three things:
…1.  Knowing your numbers
…2. Insuring against disaster
…3.  Investing wisely
These three simple steps provide a proven process for taking control of your finances and achieving financial success.
The Biggest Risk
The first rule of creating wealth is to not interrupt the wealth creation process.
Getting sick, being made redundant, losing a loved one. These are all things that we never expect to happen, but sometimes they do.
If you're 40 years old and plan on working until your State Pension age:
.

  There's a 31% chance that you'll be off work for 2 months or more
.

  There's a 17% chance that you'll suffer a critical illness
.

  There's a 6% chance that you'll die before reaching State Pension age
.

  There's a 39% chance that any one of these events will happen!
Click the link to get your own personalised risk report.
To misquote a famous song, 'the real risks to creating wealth will be things that never crossed your worried mind. They will be the kind that blindsides you at 4 pm on some idle Tuesday.'
Disaster Insurance
The best way to protect you against the unexpected is through 'human insurance'. This is especially true if you have dependents or liabilities.
Broadly speaking, there are three types of human insurance:
… 1. Income protection – a tax-free income if you're unable to work due to illness or disability.
… 2. Life insurance – a tax-free lump sum if you die (useful for paying off debts or providing for a loved one).
… 3. Critical illness – a tax-free lump sum if you suffer a serious illness such as cancer or a heart attack.
There are of course other types of insurance, but there are 'the big 3'.
The Most Important Insurance
If there's one insurance that almost everybody should have, it's income protection.
For most people, they are their biggest financial asset.
How much they can earn in the future (their 'Human Capital') is worth more than what they already own.
Think about it this way, if you're 40 years old, earn £50,000 per year and expect to work until your State Pension age, you have 'Human Capital' of £1,350,000.
When you're young, you have lots of human capital but little in the way of financial capital. As you get older, you turn your human capital into financial capital by making regular savings.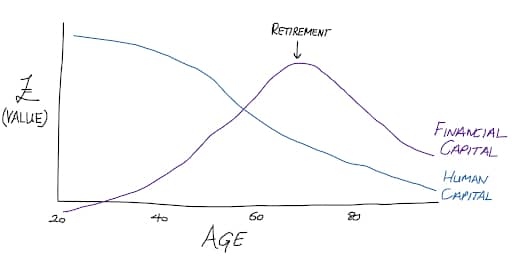 As illustrated, your human capital is often greater than your financial capital (savings, pensions, assets) for a long period of time.
The problem with this is that financial capital (e.g. owning your property) is accumulated via human capital (your earnings). If you lose your ability to work/earn, you lose your ability to save for your future & build up financial capital.
This is where income protection comes in. It protects your most valuable asset (human capital), allowing you to continue to create wealth – no matter what.
Income protection for self-employed contractors is particularly important, as they often don't have any sick pay with work.
Building a Financial Safety Net
The purpose of insurance is to catch you when you fall.
By paying a small % of your income, you protect the remaining 99%+.
If you had a money-making machine in your living room that churned out £4k per month, would you spend £40 of that to guarantee it continues doing so for the next 25 years..?
Paying for insurance is hoping for the best but planning the worst. We hope it's a waste of money and we never need it. But it gives us (and our loved ones) peace of mind should the worst happen.
What Happens Next?
To protect what's important to you, here is what you need to do:
… 1. Find out what you've already got. Check with your employer, check your bank statement, check the filing cabinet.
… 2. Work out how much you need. You can use this calculator to get started.
… 3. Take action. Arrange new insurance. You can DIY with a comparison website like MoneySupermarket.
Free Insurance Review
If you would like a little more help, we provide a Free Insurance Review, which:
.

   Works out what you already have – what you own and whether it's the right type of insurance.
.

  Works out what you need – how much insurance you need if the unexpected happens.
.

  Arranges insurance for you – finding the right insurance at the best possible price.
Book free insurance review meeting
As ever, if you want a helping hand, feel free to drop me a line.
All the best,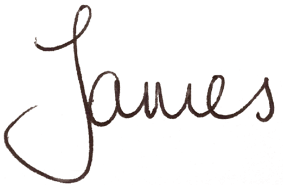 James Mackay, Independent Financial Adviser in Bristol
.
.
Financial Advisor Bristol and Pension Advisor Clifton
Frazer James Financial Advisers is an Independent Financial Advisor based in Clifton, Bristol.
About us: Frazer James Financial Advisers is a financial advisor, based in Clifton, Bristol. As an independent financial adviser, we're able to provide independent and unbiased financial advice. We provide independent financial advice, pension advice, investment advice, inheritance tax planning and insurance advice.
If you would like to speak to a Financial Advisor, we offer an Initial Financial Consultation without cost or commitment. Meetings are held either at our offices, by video or by telephone. Our telephone number is 0117 990 2602.
Frazer James Financial Advisers is located at Square Works, 17 – 18 Berkeley Square, Bristol, BS8 1HB.
This article provides information about investing, but not personal advice. If you're not sure which investments are right for you, please request advice.
Remember that investments can go up and down in value, you may get back less than you put in.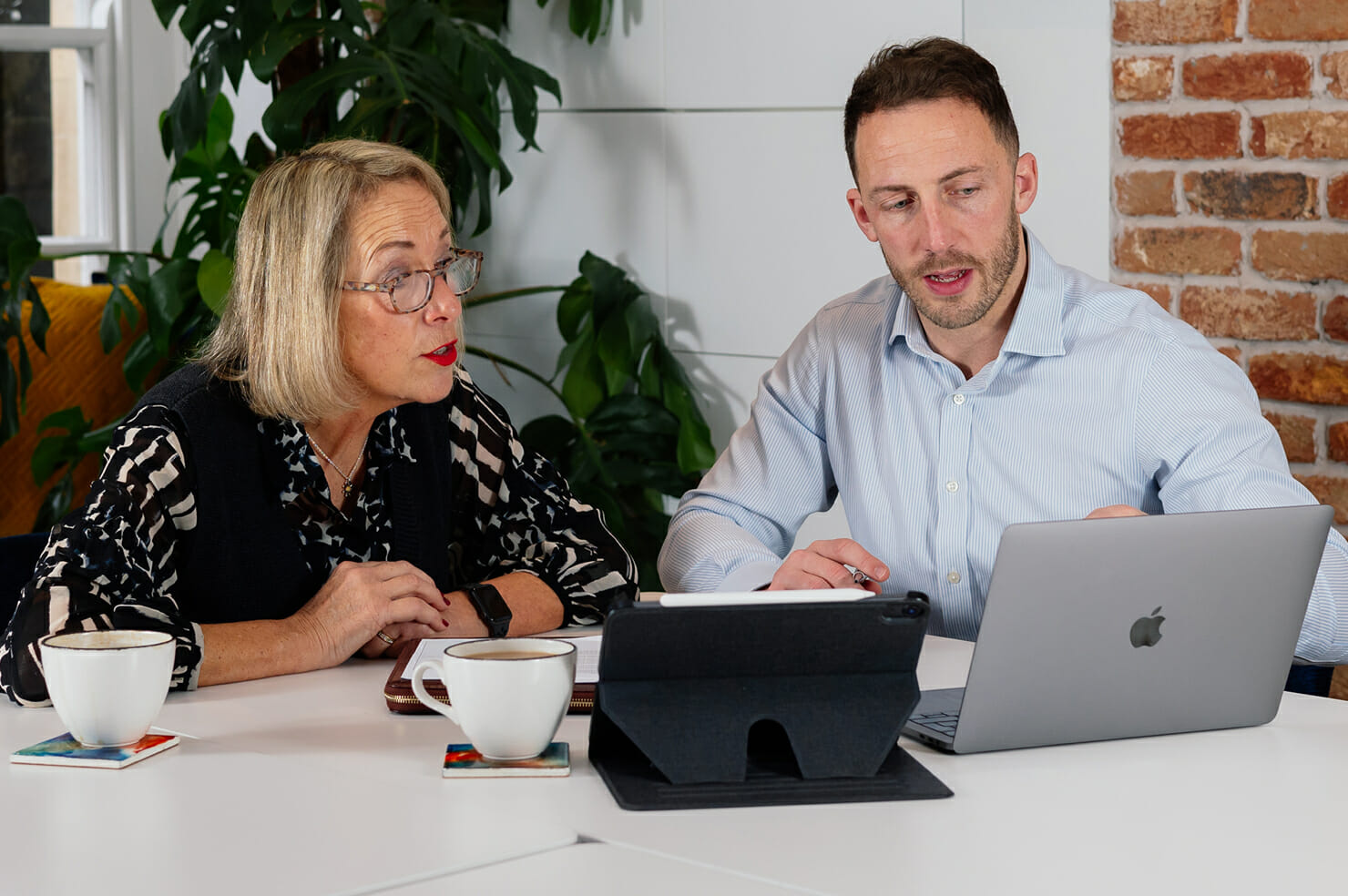 Get in touch
Schedule a free consultation with one of our financial advisers, or give us call.
01179 902 602